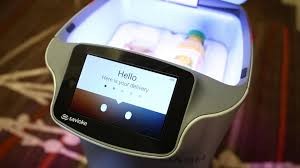 InterContinental Hotels Group (IHG) announced on August 4, 2015 the launch of their new hotel delivery robot, Dash. Dash was made by a Silicon Valley start up called Savioke. Standing at about "3-feet tall and weighing less than 100 pounds, Dash is designed to travel at a human walking pace and can independently navigate between floors, even calling the hotel elevator using Wi-Fi" (Crowe, 2015). Dash will be able to deliver snacks, toiletries, and other hotel amenities to hotel guests at their room.
Dash is not intended to replace staff, but rather to be an aide to the staff. The following is a statement from David Wang, the hotel's Director of Sales and Marketing:
"It's very user-friendly and the front desk has been using it as much as possible. It's great for them to be able to utilize the robot so they can focus on the client in front of them. We're getting more requests for room deliveries than ever before now, because people see it in the lobby and want to see how it works" (Woolsey, 2015).
So what better place to introduce Dash into the hotel industry other than California's land of innovation, Silicon Valley. Dash made its first appearance at The Crowne Plaza San Jose, in Silicon Valley. As this "try-out" begins, Crowne Plaza will determine whether or not they will bring Dash to other Crowne Plaza Locations.
In an age where technology seems to be peering it's way into every corner, one must learn to adapt and find ways to utilize the technology to it's best potential. We may have never thought of robots in the hotel industry, but when you think about the potentials, it's easy to see how it fits perfectly within this industry. Could your hotel be using a Dash or other similar technology in the near future?
Works Cited
Crowe, S. (2015, August 4). Savioke Dash Robot Joins Staff of Silicon Valley Hotel. Retrieved August 10, 2015, from roboticstrends.com: http://www.roboticstrends.com/article/savioke_dash_robot_joins_staff_of_silicon_valley_hotel
Woolsey, B. (2015, August 9). Meet the Crowne Plaza's New Robot Employee. Retrieved August 10, 2015, from RoadWarriorVoices.com: http://roadwarriorvoices.com/2015/08/09/meet-the-crowne-plazas-new-robot-employee/